Improve Customer Response With Chat Support
Customers prefer to message businesses rather than call them. See more customers reaching out to you over chat than call by making yourself available to chat on your website and mobile app.
Nudge Users Toward Purchases Over Chat
Convert online visitors to paying customers by handholding them across their purchase journey and ensuring that customers don't slip away.
Why Our Clients Trust Us Over Others
99,5% of messages delivered
24/7
platform availability
Ready-made integrations with other systems and quick connection of chatbots
Accurate and detailed reporting
Manage WhatsApp Business with edna's Unified Cloud Messaging Solution
When you choose edna's WhatsApp Business API, you also get access to an easy-to-manage unified messaging platform. This solution helps you:
Create templates and visualize them in real time
Use other channels with WABA in cascades
Track campaign performance with detailed reports
Add different tags to recipients and send targeted messages
Send automated trigger messages on customers' birthdays, anniversaries, etc.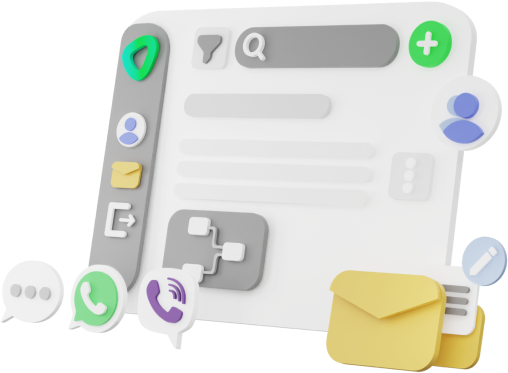 Achieve More With Our
Chat Center
Integrate WhatsApp with our Chat Center to deliver seamless, contextual experiences across channels and achieve higher customer satisfaction rates.
Connecting your WhatsApp Business Account channel with our Chat Center gives you more bang for your buck. With our Chat Center, you can easily manage all cross-channel communication from a single interface. Additionally, the Chat Center offers multiple features:
It captures and stores all past conversations of a customer with your brand, no matter what the channel, equipping agents to solve customer issues quickly and efficiently.
It also automatically routes all incoming queries to the most relevant agent based on various customer parameters, organizational team segmentations, technical scenarios.
Our chat center comes with unique features that make it far superior to similar solutions available in the market. For one, it has the capability to automatically complete requests. Also, agents can not only see the typing status of the customers, but see the actual text the client is typing. They can also request additional data from the customer's systems by using commands.
Our Chat Center also has a built-in script for post-processing of requests. It can automatically transition agents to the inactive mode when not in use. It also comes with a tool for the supervisor like sending instructions to agents, taking over the thread, forcing transferring of the thread, and so on.