Drive Higher Engagement With These Innovative WhatsApp Use Cases
Want to scale up your business
communication on WhatsApp?
Leading Car Dealership Boosts Conversions With WhatsApp Business API Powered by edna
Challenges
Identifying and segmenting customers
Increasing conversions
Solution
Customer segmentation achieved via auto tagging
Common requests met via automation
Customer support improved due to integration with CRM
Call volumes reduced via IVR call deflection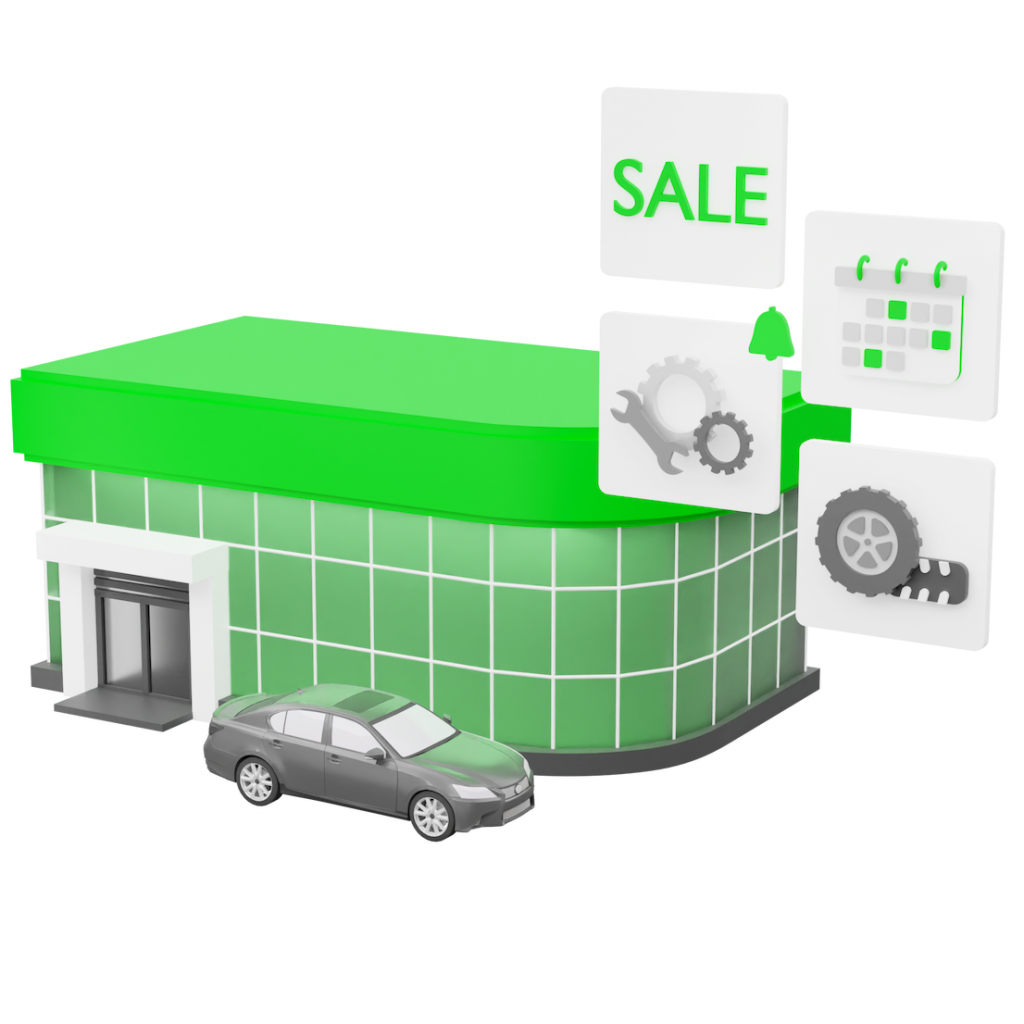 25%
of inquiries started to come in from WhatsApp
100%
of inquiries qualified into leads with full contact info
>50%
of conversions came from inquiries originated on WhatsApp
2
times higher conversion rate compared to live chat on website
Compelling Features
of WhatsApp Business API
What's the WhatsApp Business
Pricing Model Like?
WhatsApp Business API has a conversation-based pricing model. A conversation includes all messages delivered in a 24-hour session.
The cost per conversation varies by country or region. WhatsApp has four categories of conversations – Service, Utility, Authentication, and Marketing – with each category being priced differently. Service conversations, initiated by users, are eligible for 1,000 free conversations each month. The other three categories of conversations, initiated by the business, are not eligible for these free-tier conversations.
In case of multiple conversations spanning different categories, charges are based on the template category. When a template is delivered, it opens a new conversation of that category and incurs the charge of that conversation category, unless the template is delivered during an open conversation of that category. For example, if a utility conversation is open and a marketing template is delivered within that open conversation, a new, separate marketing conversation is opened and the marketing conversation charge is initiated.
However, sending multiple templates of the same category within an open conversation does not lead to additional charges. For example, a business can send multiple utility templates in an open utility conversation with no additional charges. Conversations are also not be charged when users message a business after clicking on a Click-to-WhatsApp Ad button or a Facebook Page CTA. In such cases, the first conversation session is free of cost. Another great aspect of this pricing model is that there is no limit to the number of free follow-up messages within the 24-hour conversation window. To learn more about WhatsApp's pricing policy, click here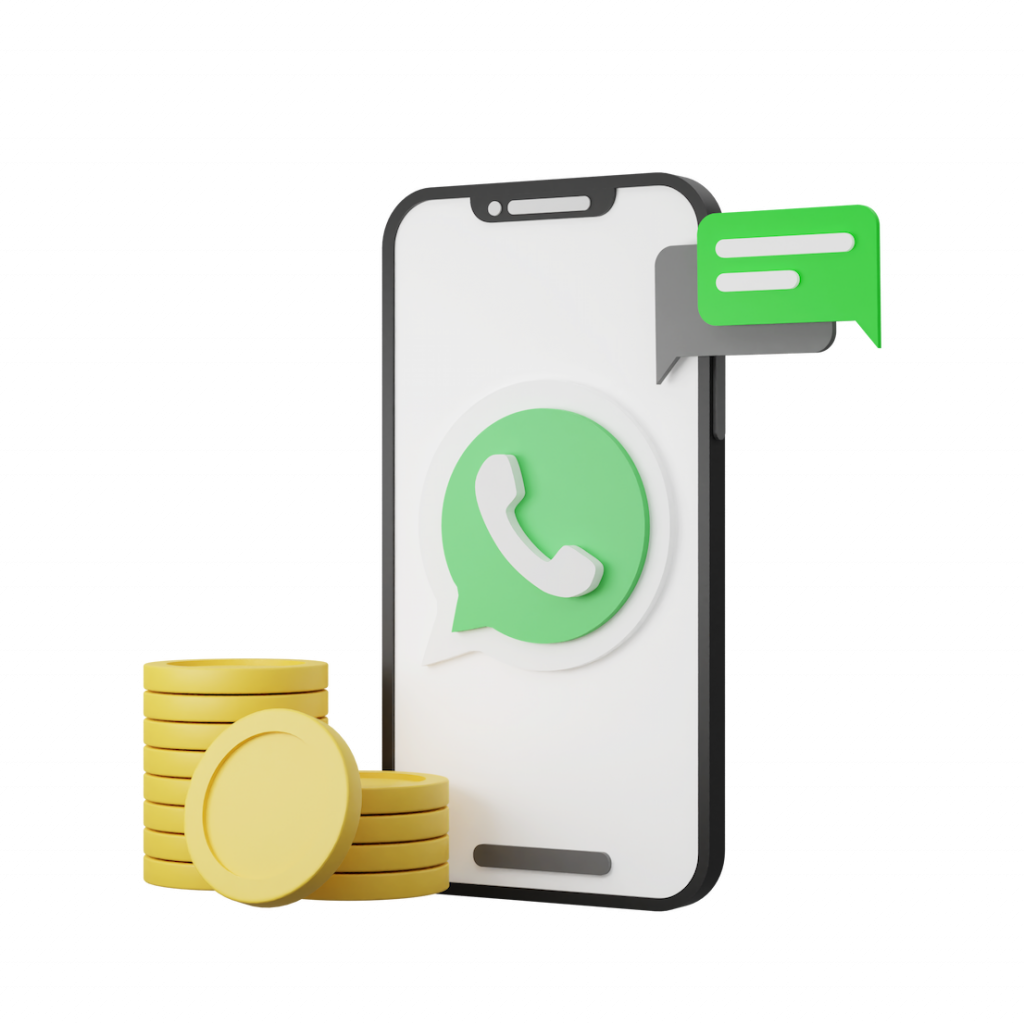 Transfer Your WABA Account
to edna's WhatsApp Now!
Do It in Easy Steps With Minimal Downtime
Happy with your current WhatsApp partner? We can make your experience even better. We enable quick, hassle-free migration from your current partner and ensure you don't need to change your phone number. You can also retain your display name, quality rating, all approved message templates, and your Green Badge.
What You Gain by Partnering With edna!
We enable easy integration with all your legacy platforms and help you get started quickly. What's more, we do not charge for each message or dialogue, instead we have a fixed subscription depending on the number of monthly active users. We also support all features available on WhatsApp Business API and can support template messages in different languages.
Free WhatsApp Widget
To make the most of WhatsApp Business messaging, you need to let your customers know you are available on the platform. And what better way to do that than embed a WhatsApp chat widget and button on your website? Widgets are easy to spot and a great way to inform website visitors that you are available to chat on WhatsApp.
With one click, they can be redirected to your WhatsApp channel and start chatting. You can create your own unique widget using multiple customization options. What's more, you can integrate the widget with existing systems such as the CRM to improve your customer service levels. You can embed our free widget into your website in a few, easy steps – no technical expertise is needed!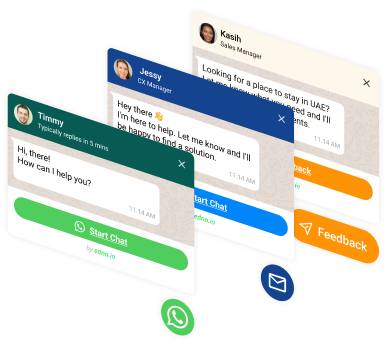 Achieve More With Our
Chat Center
Integrate WhatsApp with our Chat Center to deliver seamless, contextual experiences across channels and achieve higher customer satisfaction rates.
Connecting your WhatsApp Business Account channel with our Chat Center gives you more bang for your buck. With our Chat Center, you can easily manage all cross-channel communication from a single interface. Additionally, the Chat Center offers multiple features:
It captures and stores all past conversations of a customer with your brand, no matter what the channel, equipping agents to solve customer issues quickly and efficiently.
It also automatically routes all incoming queries to the most relevant agent based on various customer parameters, organizational team segmentations, technical scenarios.
Our chat center comes with unique features that make it far superior to similar solutions available in the market. For one, it has the capability to automatically complete requests. Also, agents can not only see the typing status of the customers, but see the actual text the client is typing. They can also request additional data from the customer's systems by using commands.
Our Chat Center also has a built-in script for post-processing of requests. It can automatically transition agents to the inactive mode when not in use. It also comes with a tool for the supervisor like sending instructions to agents, taking over the thread, forcing transferring of the thread, and so on.
Manage WhatsApp Business with edna's Unified Cloud Messaging Solution
When you choose edna's WhatsApp Business API, you also get access to an easy-to-manage unified messaging platform. This solution helps you:
Create templates and visualize them in real time
Use other channels with WABA in cascades
Track campaign performance with detailed reports
Add different tags to recipients and send targeted messages
Send automated trigger messages on customers' birthdays, anniversaries, etc.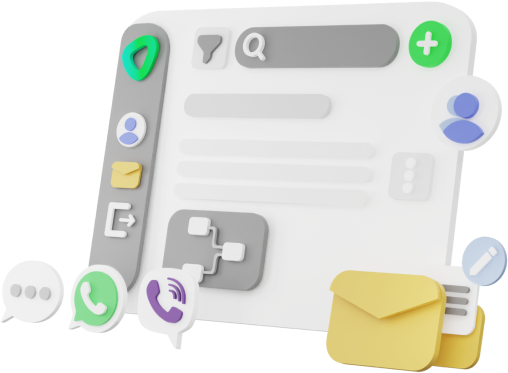 FAQ
I am an individual, can I use the WhatsApp Business API?
No. The use of the WhatsApp Business API is available only to legal entities (including individual entrepreneurs).
Which business areas can use the WhatsApp Business API?
WhatsApp Business API is prohibited for use by: sellers of alcoholic beverages and tobacco products (as well as electronic cigarettes and vaping products), pharmaceutical products; gambling business organizers; microfinance organizations.
How to start using WhatsApp Business API?
Leave a request on our website. Our manager will contact you. After that, you need to fill out a questionnaire and sign a contract.
How long does the WhatsApp Business API registration process take?
Up to 10 working days after we receive your application form and you complete all the steps necessary to start registration (start Facebook Business Manager, verify it).
How is the WhatsApp Business API different from the WhatsApp Business app?
Only one operator can communicate through the WhatsApp Business app either from a phone or from the desktop version of WhatsApp. Through the WhatsApp Business API, any number of operators can communicate using any chat or bot platform.
Why is your WhatsApp Business API not free?
There are no free WhatsApp Business APIs on the market. You can use the WhatsApp Business app for free (only one operator can work and only from the phone).
Do you have a free trial period?
No, we do not provide a free trial period.
What phone number can be connected to WhatsApp Business API?
Any phone number (landline, mobile, 8 (800)) that can receive SMS or call to verify the number.
How to get a "green tick"?
You need to be a well-known recognizable brand. If you are, you will receive a green check mark.
Is it possible to send messages via WhatsApp Business API?
Yes, using the WhatsApp Business API, you can send promotional and service HSM messages using the subscriber's phone number. Payment is charged only for delivered messages.
Are there any advertising restrictions?
Yes. It is forbidden to send non-personalized marketing offers, news and mass advertising mailings to customers.
Can I chat with clients using the WhatsApp Business API?
Yes. As soon as the client has written you a message, you can start a dialogue with him. Moreover, since the client's last message, a window opens in which you can send any messages to this client for free for 24 hours.
What is an HSM message?
HSM (highly-structured message) is a templated service message. First, the company, through the manager, submits message templates. After successful registration, the company will be able to send messages using the registered templates.