Drive Higher Engagement With These Innovative PUSH Use Cases
Want to scale up your business
communication with PUSH Notifications?
Why edna Has the Best PUSH Notification Software in the Market
Accurate Delivery Reporting Mechanism
Supported On All Mobile Devices
Efficient SDK With No Adverse Effects on Battery Consumption
Narrow Casting and Target Marketing Using Device Parameters
Easy Integration With
Built-In Libraries
James Robinson
Marketing Manager
Push messaging could help us accomplish so much that we were not able to using other channels. For one, the delivery rates and click rates were much higher compared to our other channels. We also saw a significant improvement in our app engagement and customer retention rates and saw an increase in repeat customers. Because they were easy to execute, we didn't have to invest too much time and resources for this. Overall, I would say partnering with edna for the push messaging solution gave us very good returns on investment at a significantly low cost.
Want to scale up your business
communication with Push?
Cascading and Segmentation —
Two Irresistible Features of PUSH Messaging
Although push deliverability rates are very high, there are instances when your push message can fail to deliver, say when the device is not connected to the internet. In such cases, you can set cascades which ensure that your message is delivered via a fallback channel like SMS in case the push message fails to deliver.
Another great thing about push messaging is that you can segment your customers into different groups based on parameters such as location, user demographics, user behavior, and so on, and then send them targeted messages that will actually be of value to them!
Worried About Security?
With edna PUSH, You Should Not!
We've built the most secure push to enable you to share your user account or purchase-related information through a hacker-proof channel. We understand that user security is key, so we use the standard PUSH channel only to deliver notifications that some content needs to be downloaded.
Once the application receives the notification and informs the server, the actual content is sent through a private, secure SSL channel between the application and the server. All so that you never have to compromise on user security.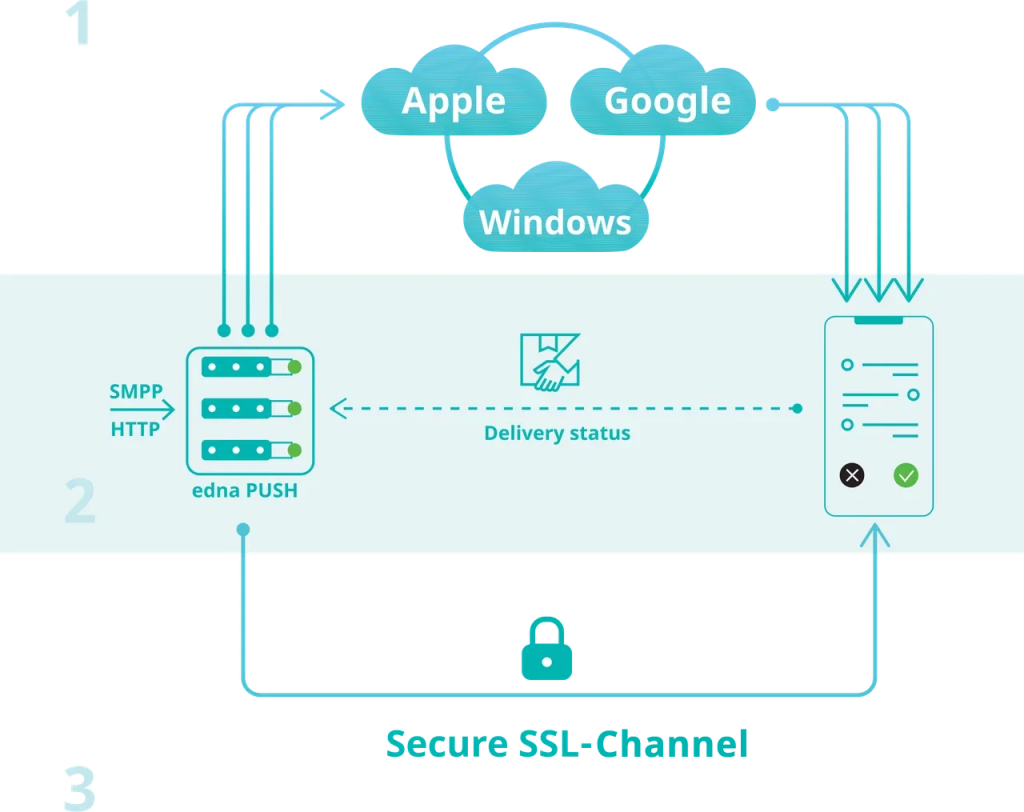 Manage WhatsApp Business with edna's Unified Cloud Messaging Solution
When you choose edna's WhatsApp Business API, you also get access to an easy-to-manage unified messaging platform. This solution helps you:
Create templates and visualize them in real time
Use other channels with WABA in cascades
Track campaign performance with detailed reports
Add different tags to recipients and send targeted messages
Send automated trigger messages on customers' birthdays, anniversaries, etc.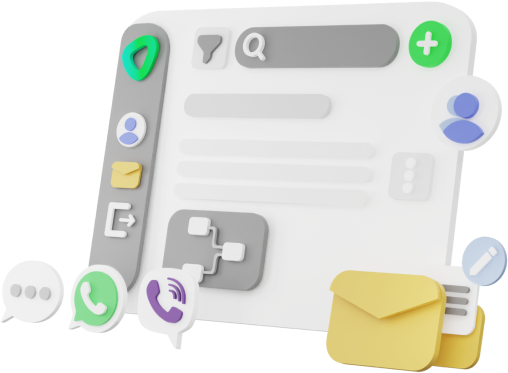 FAQ
What are push notifications?
Push notifications are short pop-up messages from a business that show up on a user's mobile phone even when the user hasn't opened the app of that businesses. They can be plain text messages as well as messages with a text, images and a URL. They provide a direct path for your business to reach clients with information that is valuable for them.
Why are they used?
They help to increase app usage and provide greater customer engagement through timely, customized messaging. They are used to send a number of promotional, transactional, or support messages such as alerts, reminders, product recommendations, important announcements, and more.
What is cascading?
Cascading is a feature whereby if a message fails to deliver in one channel, it is sent again via an alternative channel so that the user receives it one way or the other. In case of push, if a push message fails to deliver, the sender can set a cascade in a way that the same message is delivered via SMS.
How does mobile push marketing work?
Mobile push marketing involves sending push messaging campaigns to customers on their mobile devices to encourage them to make purchases and keep them informed about promotions and special offers.