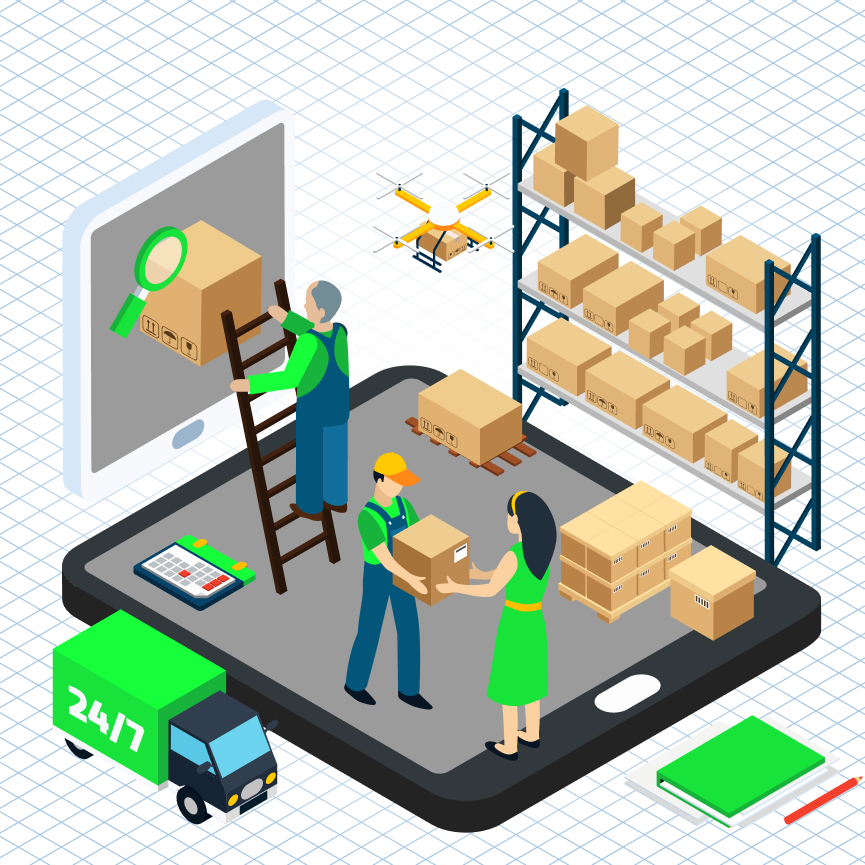 We live in what is possibly the busiest of times for the logistics industry. The phenomenal rise of e-commerce has enabled brands to expand their market and reach more customers than ever before. Global parcel deliveries have hit the roof and are expected to cross a whopping 200 billion by 2025. While this is great news for businesses, it also presents serious logistical challenges, especially with today's customers demanding Amazon-like precision when it comes to delivery — they want 24/7 delivery options, proactive updates, and greater flexibility in terms of delivery timings and pick-up and drop-off locations. Deliveries and returns processes have now become important considerations in a customer's purchasing decision, and a key differentiator for companies jostling for space in an already crowded marketplace. But delivering on such high expectations is not always easy.
A typical freight move involves many stakeholders including not just diverse teams within an organization but also vendors, warehouses, distribution centers, and freight forwarders. To successfully deliver a product, this whole group must coordinate perfectly to carry out inbound and outbound shipping daily for thousands of customers. With so many moving parts, any lag in communication can set off a cascade of problems across a company's supply chain, such as difficulties in tracking, routing and delivery, resulting in failed deliveries and disgruntled customers. What's more, companies need to deliver millions of packages to waiting customers on a daily basis — and many among them request last-minute changes in location, delivery timings, or even the product itself. Any lag in such urgent communication — a missed call, an unopened email — can create extreme dissatisfaction among customers who will simply refuse to engage with the company further.
93 %
Shoppers expect to receive proactive shipping updates
97.5 %
Shoppers want to self-serve or interact with retailers directly to solve delivery issues
75 %
Shoppers are more likely to buy a product when estimated delivery date is shown on the product page or shopping cart
40 %
Shoppers say delivery is the single most decisive factor of their shopping experience
Communication APIs — a Technology of Choice for Top Service Providers
Companies are now turning to innovative communication technologies to simplify their logistics management, stay on schedule, and keep customers happy. Communication APIs are emerging as the technology of choice to power all their customer interactions – right from the point of sale to the actual delivery. Rich messaging platforms such as WhatsApp Business Platform or WeChat, which are interactive, easy to use, scalable, and enable real-time communication are helping companies send out automated updates on shipments to millions of customers without having to maintain large customer service teams. Businesses that have added WhatsApp and other such communication APIs have not just seen huge improvements in customer experience, but are also better prepared to meet future increases in demand. They have answered many shipment queries on WhatsApp, reducing customer support call volumes significantly.
Features of Whatsapp Business Platform That Help Companies Manage Logistics
| | |
| --- | --- |
| Real-Time Communication | Multimedia Messaging |
| Live Location-Sharing | Two-Way Communication |
| Integration With Existing Systems | End-to-end Encryption |
| Unlimited Scalability | Message Templates With Customizable Placeholders |
How Messaging Platforms Benefit Customer-Facing Functions
Today's customers demand convenience, speed, and flexibility — they want greater control over how, when, and where they want their packages delivered. For companies, product delivery is a key point of customer interaction, and how they serve their customers in this area comprises a key part of their overall customer experience. Yet, many businesses struggle with this kind of communication. They continue to rely on emails, SMSs, and phone calls to convey important communication, but these are not always fool-proof, creating gaps in information that cause major inconvenience for customers and loss of reputation. What's more, this kind of communication is often one-sided, making it difficult for customers to reach the company easily.
Within just a few years, rich messaging platforms have emerged as a highly effective way for companies to connect with customers (and vice versa) for a variety of delivery-related issues. Customers are also increasingly open to the idea of interacting with companies over trusted messaging channels they already use in their daily lives. Platforms such as WhatsApp Business and Apple Business Chat, with their rich messaging and two-way communication, enable companies to easily handle repetitive delivery-related queries. Let's take a look at some of the major use cases:
According to Forbes Insights, Amazon's disruptive influence across supply chain and transportation industries has compelled companies to reinvent their logistics, supply chain, and transport operations.
Use Case #1: Order Tracking
Problems

To use rich messaging platforms to share automated notifications proactively, such as estimated date of delivery, tracking ID, name and number of the delivery person, and the estimated time of arrival to customers, so that they are aware of the exact status of their orders (at the warehouse, in transit, etc.). Order tracking has quickly become an essential service in e-commerce.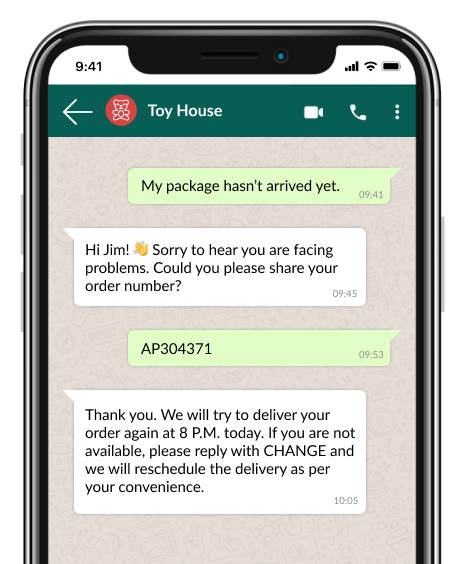 Approach / Solution
After making a purchase, customers are often left wondering about the status of their order. Precise delivery-related updates are not always shared on time, making customers wait for long periods. Also, changes in delivery schedules due to sudden disruptions are not properly communicated to them. Companies often rely only on phone calls and SMSes while sending out their delivery teams. If by chance customers do not pick up the phone, they can miss out on urgent communication from the company and face difficulties in receiving their deliveries.
Benefits
Lowers dependency on customer support teams due to automation
Improves customer's convenience due to real-time notifications
Offers faster response than traditional channels
Builds trust with customers, which increases customer lifetime value
Onboarding Framework
Existing or new customers who have placed an order and are awaiting its delivery
Customer Need
To receive regular updates on the status of their order
Communication Intent
To automatically send order confirmation alerts and tracking IDs to customers so they can view the status of their order as it moves from processing to shipping
To enable them to reschedule or cancel orders over messaging
To notify them in case of unforeseen delays
To answer queries in the fastest possible time
To enable customers to easily edit shipping addresses
To ensure 24×7 chat support
Channel
WhatsApp, Apple Business Chat, WeChat, etc.
Type of Communication
Two-Way
Mode of Communication
Fully automated messages; or automated as well as live agent support over messaging
edna Systems Implemented
Script chatbots to respond to standard inquiries
WhatsApp Business Platform powered by edna, which helps businesses engage via an official business account. They can share bulk notifications about major updates, send media files (invoices, delivery details, etc.), enable two — way communication in case customers need some clarification, changes, etc.
Chat Center helps to establish omnichannel communication and set up conversations with customers using channels that they prefer: messengers, emails, SMS; ensure 24/7 customer support
Systems Connected
API integrated with ERP, CRM, CDP, OMS (order management software) or any existing system to ensure smooth business process and no data loss – all information about delivery details, changes, and customer requests stored, changes, and customer requests
Use Case #2: Easy Location Sharing
Problems
Sometimes, last-mile delivery persons encounter problems while trying to find the exact location of a delivery address. They do not know the shortest routes to the place, or have to call up customers repeatedly to understand how to reach the destination. Customers are kept waiting beyond the scheduled time. Customer support teams are also left in the dark about the location of the delivery person, and cannot answer customer queries regarding the whereabouts of the delivery person. Also, customers cannot share their own location with the "out for delivery" person in case they have to change their location at the last minute due to some contingency.
Approach / Solution
To use rich messaging platforms like WhatsApp that enable delivery persons to share their live GPS location with both customers as well as support teams. That way, no one will be in the dark about the exact time of arrival. Customers can also share their live location with the delivery person, which will help them locate customers in case the exact drop-off location is not clear from the address provided, or in case the customer has changed their location at the last minute. Messaging also enables customers to leave specific delivery instructions on WhatsApp.
Benefits
Faster last-mile delivery
Accurate ETA information
Increased first-time delivery success
Great for areas without traditional zip codes or addresses
Fewer inbound calls as customers can easily track location of delivery partners themselves
Customer support teams can also track movements of the delivery partner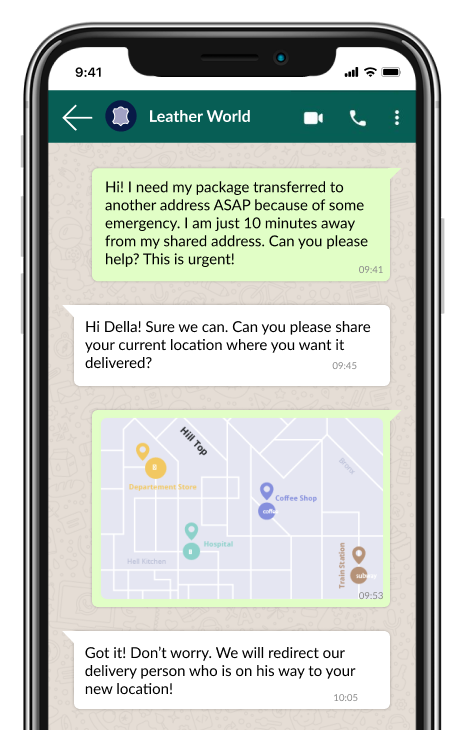 Onboarding Framework
Existing or new customers who are awaiting the delivery of products purchased online and want to track the exact time of arrival of the delivery person.
Customer Need
To receive orders at a location of their choice, no matter how late they intimate the company of the desired change in location
Communication Intent
To help customers track movements of delivery persons in real time
To help delivery partners take the shortest possible routes via GPS navigation of the shipping address provided
To enable customers to reach out in case they need to change their location at a short notice
To help customer support teams keep track of the whereabouts of the delivery person in case the customers choose to call
Channel
WhatsApp, Apple Business Chat, WeChat, etc.
Type of Communication
Two-Way
Mode of Communication
Fully automated messages; or automated as well as live agent support over messaging
edna Systems Implemented
WhatsApp Business Platform powered by edna gives delivery teams an opportunity to share their location in conversations via WhatsApp; it enables two-way communication so that customers can reach out to share updates about their preferred time and place of delivery. it also helps businesses send automated notifications such as 'you'll receive the order in 1 day.'
Systems Connected
Integrate API into ERP, CRM, CDP, OMS (order management software) or any existing system to: update address in case of any changes from the customer's side, store information about preferred delivery time slots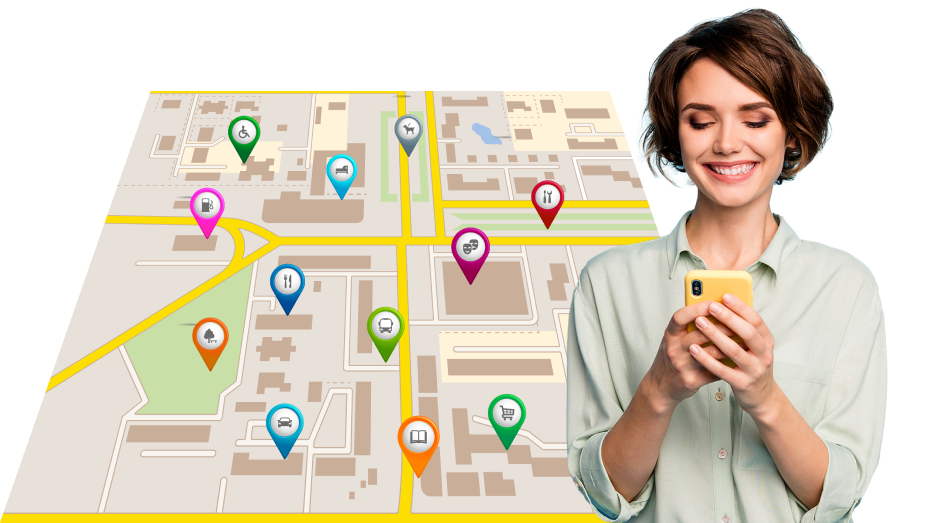 Use Case #3: Easy Returns and Refunds
Problems
With online deliveries almost becoming the norm, the scenario of some products being returned (incorrect sizes, wrong products, etc.) has become an unavoidable nuisance, both for customers and companies. Reversing the entire supply chain isn't easy. Customers need to call and email customer support several times to share pictures of the goods. They also need to follow up closely with the team to initiate the refund process. Customer support teams also need to coordinate with delivery persons to have the returned goods picked up. Making the returns process efficient is critical for companies.
Approach / Solution
To support customers throughout the returns process via rich messaging technologies such as WhatsApp. Customers can easily share images of the damaged or incorrect goods received, invoices, etc. with support teams over messaging and seek refunds or exchanges. Messaging chatbots can easily collect necessary details such as the reason for returns and guide customers appropriately to facilitate easy returns. Bots can also transfer more complex requests, such as when customers seek free deliveries for futures purchases, to human agents. Efficient product returns can act as great opportunities for companies to create a competitive advantage.
Benefits
Facilitates pain-free returns and refunds
Becomes a key differentiator in customer experience, e.g., by enabling same-day returns, providing free deliveries for future purchases, ensuring hassle-free refunds
Seamlessly transfers chats to human agents in case of complex queries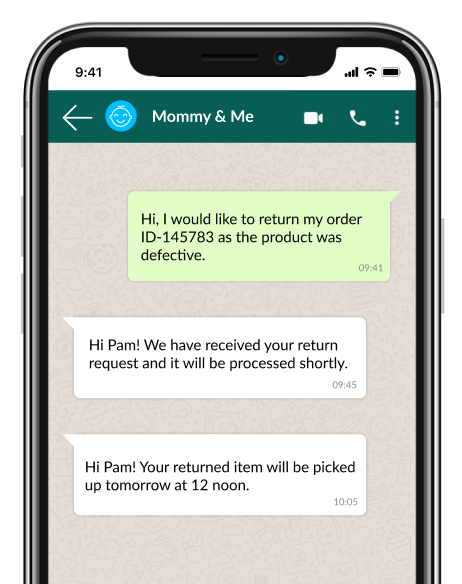 Onboarding Framework
Existing or new customers who expect the returns process to be simple, quick, and convenient
Customer Need
To easily return goods and claim refunds or request exchanges
Communication Intent
To enhance user convenience in returning goods
To receive complaints in case of damaged goods, arrange returns, and process refunds
To collect feedback and improve customer experience
Channel
WhatsApp, Apple Business Chat, WeChat, etc.
Type of Communication
Two-Way
Mode of Communication
Fully automated messages; or automated as well as live agent support over messaging
edna Solutions Implemented
WhatsApp Business Platform helps businesses add media files to conversations to process refunds, send notifications about the refund status, and so on. Chatbots help to handhold customers through the standard refund processes
Systems Connected
Integrate API into CRM, CDP, OMS (order management software) or any existing system to update information about a customer's cancelled orders
Can Rich Communication Platforms Make a Difference to Back-end Functions as Well?
While the benefits of messaging communication for customer-facing processes are clear, it is also worth considering how they might improve the efficiency of all the back-end communication that goes on. Arranging delivery involves intense coordination not just among members of different teams within a company, but also that between a company and its many vendors involved in fulfilment and delivery. Or even a company that outsources delivery entirely to third-party logistics providers (3PL companies). To ensure free flow of goods, each team in the pipeline needs to be kept updated at every step of the journey. There's a lot to keep track of — the inventory, SKU velocity, what's being shipped and where, and which items are being returned. Supply chain disruptions can happen suddenly, and if such changes are not communicated to teams promptly, it can create problems in smooth delivery and make it inefficient. Such a team effort cannot work in the absence of well-connected communications processes. This requires numerous supply chain software integrations such as that between order management systems, inventory management software, warehouse management system, transport management systems, or integrated freight management software, etc.
How Different Stakeholders Usually Connect
Much before the advent of disruptive digital communication technologies, data transfer between different teams would take place manually using faxes, simple emails, or phone calls. This form of communication was not just time-consuming, but highly prone to errors resulting from manual entries and information gaps that would invariably occur. Many a times, one team would leave notes for the next team under a "remarks" column at the time of booking or when shipping instructions were recorded. This kind of communication would often not be picked up by the team handling the delivery at the next stage, resulting in botched deliveries. Later, electronic data interchange (EDI) was introduced as a means of communication between supply chain parties, but this was also a complicated method that required adherence to a particular format.
However, it was with the introduction of APIs that finally brought about quick, efficient system-to-system communication in logistics. APIs connected the entire supply chain through easy integration. It facilitated easy and real-time information exchange between a company and its multiple stakeholders — bridging gaps between shippers, brokers, carriers, customers, and other supply chain partners. It helped to automate processes with seamless transfer of data and helped companies easily share information — e.g., proof-of-delivery documents sent by carriers to their respective companies — between teams. Companies could also share automated shipping updates with customers using this technology. Not only did this boost visibility and transparency, but also enabled companies to save costs and time.
How Rich Messaging Platforms Can Help
We believe that back-end communication can further be improved via rich messaging platforms. As most people are already familiar with messaging technologies, teams will find it easier to communicate with each other using such platforms. Although phone calls are a standard way of communicating, they come with the risks of calls not being picked, people being put on hold for long periods, incoherent instructions, and so on. And these are problems companies cannot afford to have in this age of same-day deliveries.
Messaging is a great way for such teams to receive instant messages directly on the chat platform. It enables two-way communication and is a highly efficient and cost-effective way of sharing information. It is particularly useful in facilitating easy communication for subcontracted transport partners that may not have technological capabilities, for example, a small trucking company that may be subcontracted to perform a one-time delivery. Another benefit is that platforms like those powered by edna can easily be integrated with existing software, backend systems like warehouse management systems, accounting systems, order management systems, and other third-party apps and used on both mobile devices and web browsers. They offer a variety of benefits for teams, for example:
Managers can provide location-based instruction to workers on chat platforms, which would save them commute time
They can assign work over chat
Delivery teams can report problems in transit immediately to managers, who can suggest the next course of action quickly
Shippers can take better load planning and routing decisions, track and trace more accurately, improve efficiency and save costs
Teams can share videos, images, transport invoices, etc. with each other over messaging
Air, land, sea, rail & road freight issues can be addressed over messaging
In case of returned goods, delivery persons to whom goods have been returned can easily share images of the same with customer support teams, who can quickly decide whether to approve or disapprove the return based on the picture
Teams can communicate in a secure, end-to-end encrypted format with suppliers outside the organization
Businesses can exercise greater control over order fulfilment processes, ensuring important tracking information is never missed
They can simplify package delivery for customers and increase their competitiveness
Centralized storage of all WhatsApp interactions allows managers to track, monitor and archive messages with time stamps, creating a record of communication with other teams or vendors
Communication platforms like WhatsApp APIs will become increasingly critical because they can talk to a company's internal systems as well as to vendors and customers.
Closing Thoughts
Logistics is a critical aspect of e-commerce. It's not just about packing a product and shipping it to the customer. The choices an e-commerce company makes — whether it's regarding the shipping fee to be charged, the returns policies, the carriers they will engage with, or the communication methods they will select — will hugely impact on the success of its e-commerce operations. Companies that have already deployed messaging technologies to share proactive delivery updates with customers and even internally have not just significantly improved their CX and reduced costs, but are more ready to meet increased demand in the future compared to peers. Others must take note.